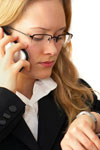 According to the Small Business Chronicle, professional workplace behavior is necessary for the long-term success of a business, regardless if it is a small or large company. When employees behave professionally in a workplace capacity, this can assist with; establishing boundaries, encouraging improvement, maintaining accountability, promoting respect and minimising conflict. A business is often very reliant on their employees, one way to ensure that employees will be effective is through professional development.In workplaces, professional development refers to the acquisition of skills and knowledge both for personal development and for career advancement. Fortunately, there are now training courses available through companies such as Raising the Bar. These courses help employees become more organised, confident and efficient at carrying out their individual roles. Raising the Bar offers professional development training in a range of areas including; time management, conflict resolution and Microsoft Outlook training.
According to a recent piece, professionalism in the workplace is not only beneficial for the company, but for the employees who must work together daily. In modern workplaces, professionalism is often key to the success of the organisation and the personal development of employees.
Time management can present a major challenge to modern employees. Time is now one of the most important resources due to the demanding nature of both work and home lives. Many people struggle with time management due to changing demands and competing priorities from different areas of their life. Time management is the act or process of planning and exercising conscious control over the amount of time spent on specific activities, especially to increase effectiveness, efficiency or productivity. According to Forbes, managing your time well will combat a demanding schedule, overbooked days, and struggles associated with a work/life balance. To get the best from employees, time management training is a great way help employees develop professionally and personally. According to Career Success for Newbies, the benefits of time management include: helps you prioritise, get more done in less time, more quality work, keep things in context, forces you to do things you don't like, keeps you on track, makes sure you deliver on what's promised, make the most out of limited time and it helps discipline ourselves. Time Management courses give employees the skills to utilise task analysis, prioritising and effective planning.
According to the Queensland Government, conflict is a major cause of staff turnover and costs your business money. Queensland Government research shows over 65% of employee performance problems are the result of strained relationships rather than a lack of skill or motivation. This stresses the importance of of conflict resolution in modern businesses. According to the Better Health Channel, workplace conflict may occur when people's ideas, decisions or actions relating directly to the job are in opposition, or when two people just don't get along. Some conflict in the workplace is inevitable and needs to be dealt with appropriately. Conflict resolution training allows employees to acquire the skills required to handle difficult situations appropriately with assertiveness and diplomacy. By attaining these skills, employees are able to solve these issues independently and minimise disruption to their everyday work activities and responsibilities. Raising the Bar's conflict resolution training courses allow participants to gain and implement these crucial skills.
Outlook is a modern email tool for businesses and if used correctly can be a major resource. Raising the Bar offers a course designed for people wanting to increase productivity using Microsoft Outlook.
Professional Development
Professional development is an emerging trend for businesses with organisations recognising the importance of developing employees professionalism in order to increase productivity and efficiency. Raising the Bar offers a range of affordable training courses to assist employees in getting to the level they want to be at. Raising the Bar is the leading provider of training courses and promise results. With a money back guarantee, free course re-sit and free post course support, Raising the Bar is the obvious choice for professional development training courses. If you think it's time to go that step further, please check out our website or contact us today for more information.
Professional Development Training Courses
Up-skill yourself with Professional Development Training Courses
Professional Development Training Courses
Written by:
https://plus.google.com/u/0/+CraigHolmes_RtB
Date Published: 11/30/2013
Professional Development Training Courses at Raising the Bar